Jon Brandon, Director of Youth Ministry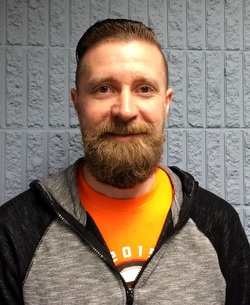 Jonathan Brandon

Years at DC: I began working at Discover Church on June 1st, 2009. So this summer (2016), I will be entering by 8th year of ministry here. It's incredible how fast time goes by, and I feel blessed beyond words to be a part of this church family!

About me: I married my best friend, and love of my life, Sara in January 2008. We are blessed with three incredible children: Cadence, Jameson and Anders. We also have a couple of cats that call our house home: Maeby and Lucy. I am a lover of music!! I enjoy playing the guitar and piano. You'll often find me listening to Beethoven or the latest music by David Crowder! I also enjoy reading. My favorite book is the Bible. (Ok, that's probably stating the obvious!) I enjoy reading, and re-reading, "Messy Spirituality" and "Dangerous Wonder" by Mike Yaconelli. I enjoy being outdoors! Exercising, BBQ'ing, playing just about any kind of sport, landscaping, chasing my children around, hammock sleeping, etc. Summer is the best; winter is tolerable, in my opinion.

Favorite verse(s) & why: It's hard to pick just one… As the students in the Youth Ministry will tell you, I have A LOT of "favorite" verses. One of my most frequently recalled scriptures is Philippians 4:4-8: Rejoice in the Lord always. I will say it again: Rejoice! Let your gentleness be evident to all. The Lord is near. Do not be anxious about anything, but in every situation, by prayer and petition, with thanksgiving, present your requests to God. And the peace of God, which transcends all understanding, will guard your hearts and your minds in Christ Jesus. Finally, brothers and sisters, whatever is true, whatever is noble, whatever is right, whatever is pure, whatever is lovely, whatever is admirable—if anything is excellent or praiseworthy—think about such things. We all seem to have a human tendency to overlook the multitude of blessings in our life, and to fixate on our worries and anxiousness. I love this verse because it reminds me that, regardless of any circumstance, there is still reason to rejoice that Christ is present in our lives. My daily goal is to seek Christ in prayer and fix my thoughts on Him - the perfect example of what is true, noble, right, pure, lovely, admirable, excellent and, certainly, praiseworthy!

Vision for DC: To continuously strive to the be a congregation rooted in the Word and example of Jesus Christ, and led by the Holy Spirit to work in our community as the hands and feet of Christ.

Spiritual Gifts: In every spiritual gift assessment I've taken, my top three are consistently: teacher, pastor/shepherd, and faith.


---