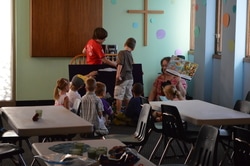 4 Yr through K
Classroom Description - This class is for 4 year olds through Kindergarteners and has 4 sets of teachers that works once each month.

Safety - Your child will be checked in, upon your arrival, with a call number that is used to contact you during the service. That number also serves as a safety assurance that you are the parent who checks out your child.

Class - Upon your child's arrival they can choose to play with an area of interest, or to color a coloring sheet. The class starts about 5 minutes after the adult service begins. A routine of Bible Story time, snack time, activity or craft time and than Free time can be what your child can expect.

Cleanliness - All smaller toys are washed monthly in an industrial dishwasher, and the larger toys are cleaned with a "child safe" sanitizer.